Mainstreet Association for Centerville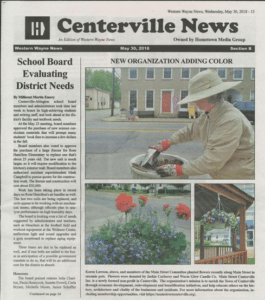 It's exciting to see our local business leaders come together to develop a recognized Main Street Association in Centerville!  Why is this important?  Collaboration always produces strong outcomes when discussing beautifications, overall business needs such as utilities, road and street needs, and potential tax benefits for new or growing businesses.
Indiana Main Street (IMS) encourages the revitalization and restoration of downtown areas in Indiana cities and towns.  The program provides technical assistance and educational opportunities to participating communities. Indiana Main Street is the state's coordinating program to the National Main Street Center.
According to their mission statement on their website:
Main Street Centerville will enrich the Town of Centerville through economic development, redevelopment and beautification initiatives.  We will help educate others on the history, architecture and vitality of the businesses and residents.
We are about downtown revitalization.  We want to renew and restore the downtown area to its former prominence as the center of community activity!