Through the Archways of Time
The birth of an American town
In 1814, the town of Centerville was platted on land opened to white settlement as a result of the Twelve Mile Purchase from the Miami Indians in 1809. Christopher Roddy purchased the first lot in Centerville and was granted town naming rights. The town was originally spelled Centreville following the traditional English spelling until it was later changed to the present Centerville. The seal still shows the "re" spelling.  In 1818 Centerville was named the county seat of Wayne County being that it was growing quickly and was the geographical center of the county. The County seat prior to this was the town of Salisbury (which was between Centerville and Richmond). Salisbury no longer exists but was the original location of the log cabin courthouse that stands in Centerville today. This is the only original log courthouse still standing in the old northwest territory.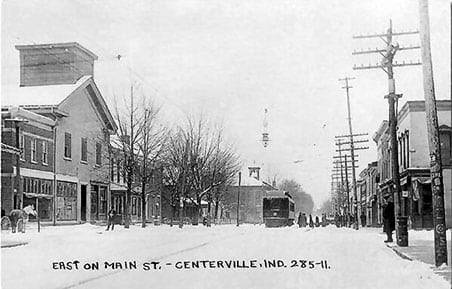 Upon becoming the county seat, Centerville grew quickly. Many of the earliest settlers in Centerville were Quakers from Virginia and the Carolina's. These Quakers enjoyed the land they had found away from the slavery in the south. They held fast to their principles and had a great respect for education. They quickly raised meeting houses and schools. By 1827 Centerville had the Wayne County Seminary under construction and provided education to the pioneers for 50 years.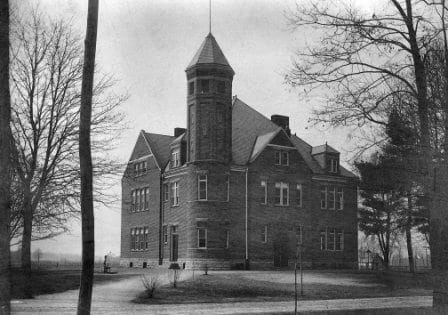 The Wayne County Seminary or Whitewater College
The seminary was later sold to a group of Methodists and renamed the Whitewater College with Rev. Cyrus Nutt as President. He later became president of Indiana University. Among the honored educators were Samuel K. Hoshour, Rawson Vaile, A. C. Shortridge and the Rev. Nutt. Some of the students that found fame were Ambrose Burnside, John Stevenson Tarkington, father of Booth Tarkington, Emily Meredith, mother of Meridith Nicholson, and Oliver P. Morton, Civil War Governor of Indiana.  The building was continuously expanded; in 1840 the East wing was built, then in 1848 a center section was added and it became the Whitewater College. In 1865 it became the Centreville Collegiate Institute. The building was again sold in 1870 and became Centreville High School. It then burned in 1891. The Union School was built on the site, and then was torn down and the Elementary school was erected.